Welcome to Crypto-Charities
Crypto-Charities.org was developed for everyone who believes in a good cause.
For use by charities, organizations, corporations, schools, churches, clubs, and even individuals.

Our mission is to make it easy for you to donate to the charity of your choice, automatically, in the background, every minute you spend using your computer. It's simple and free to put your computer time to good use!

Download Now to install our safe, anonymous, custom application and start raising money for one of our supported charities today. Or register below to start fundraising for a different entity of your choice. It's quick, free, and is Microsoft-trusted software.
As Seen On
Frequently Asked Questions
How Does It Work?

Using a patent pending workflow, the Crypto-Charities.org application runs on your PC and uses your computer's unused processing power (through your CPU) to mine crypto-currency in the background while your computer is on. This crypto-currency is then converted into dollars and donated to the charity of your choice on a monthly basis

What Does It Cost?

The use of your computer's CPU to mine crypto-currency utilizes some of your electrical power, but not enough to make any long term impact on your electric bill. Running our Crypto-Charities.org application will add pennies annually over your normal computer use -- a fraction of what you can raise for charity.

Does this affect my computer's performance?

Not more than any other application and in most cases less. It does not run as a priority application and thus will scale back its computing power when other applications require more.

I use Anti-Virus, can I still use the app?

YES! Because we are recognized as a Microsoft-trusted software publisher, Crypto-Charities runs seamlessly with Windows Defender and all major anti-virus software programs, including Norton, McAfee, Avast, Bitdefender, Webroot, and AVG. If you run into any issues during install or while running the app, please contact our support team at [email protected] and we will respond within 24 hours to help you resolve the issue.

Does Crypto-Charities.org collect my browsing data?

NO! The Crypto-Charities.org application does not collect any data from your browser or computer! The only data that will ever be passed between the application and Crypto-Charities.org is data strictly relevant to how much you have mined.

I want to raise money for a different charity; can I?

We think it's great you want to give! If you're interested in raising money for a charity not listed in our Charities section, use the contact form below and recommend one to be added! Your input is greatly appreciated.

How do I get my organization listed?

If you're part of or represent a group, individual or organization that would like to benefit from passive fund raising, please use the contact form below and we will be in touch right away! We will take care of setting everything up for you. We'll even contact your members by email, introducing ourselves and walking them through the application set up process.

*We are not affiliated with any organization and only use familiar icons for visual recognition.
Our Newsletter
Sign up for our newsletter for news and updates each month!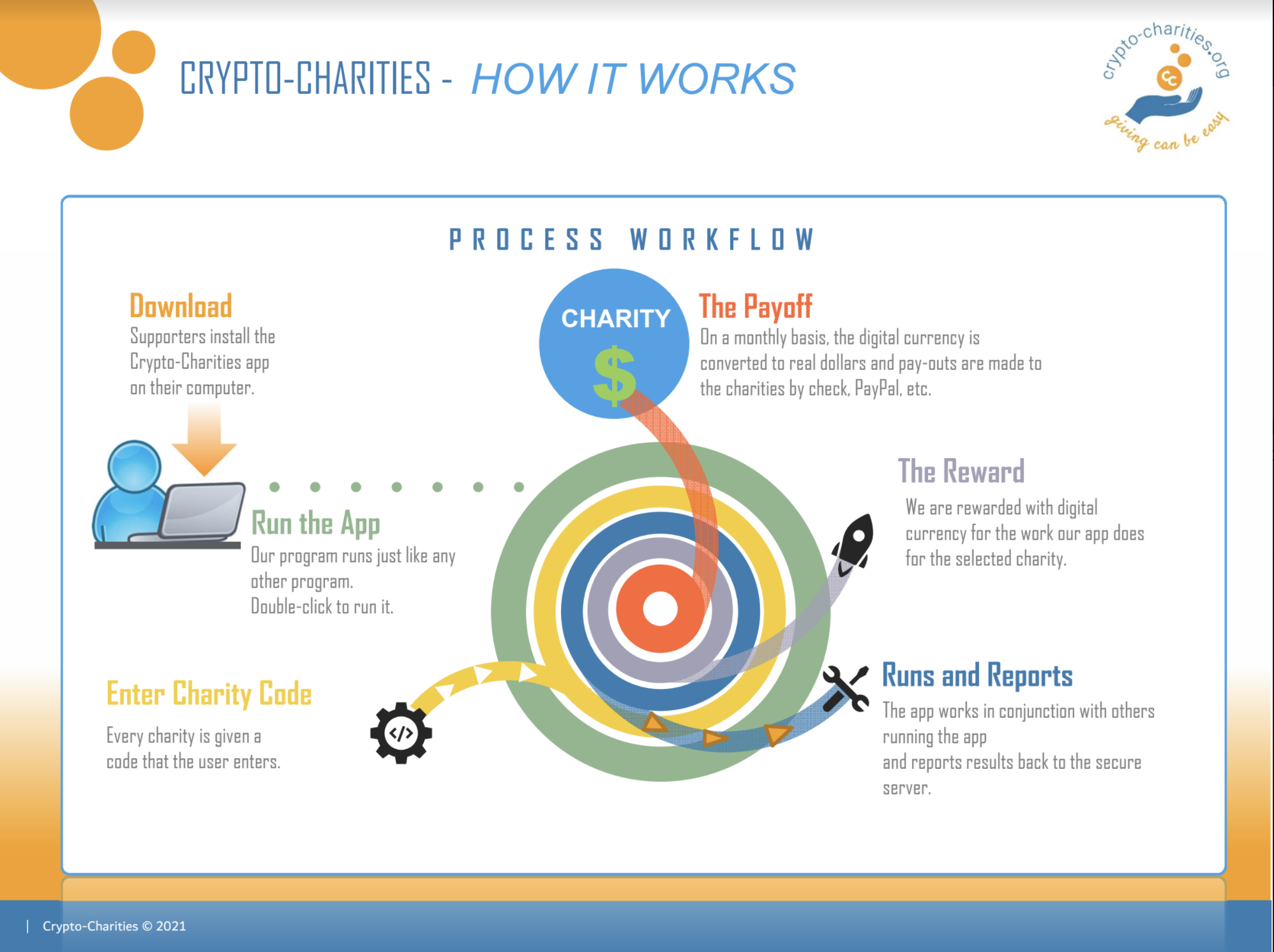 Contact Us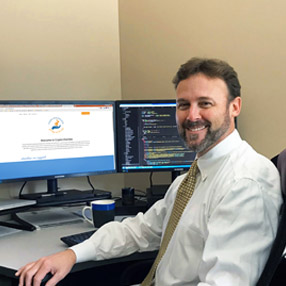 Meet Russ
Father / Husband / Entrepeneur
Russ is the owner and is here to answer any questions. As a long-time data professional, Russ is looking out for your security and best interests. His goal for Crypto-Charities is to create another donation avenue for supporters of causes they believe in and unlock the power of passive fundraising for charities, organizations, non-profits and individuals.